Submitted by

Christy Kirwan

on Tue, 2019-01-08 13:15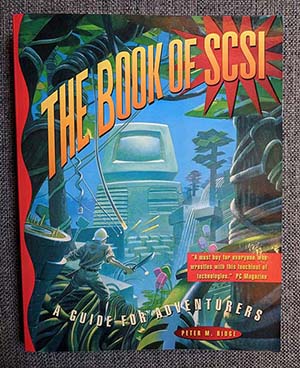 It's January of 1995. Boyz II Men have the #1 hit song, Braveheart is in theaters, and Dr. Martens are à la mode. No Starch Press has just published its very first book of all time, The Book of SCSI: A Guide for Adventurers. The guide was a meticulously researched comprehensive SCSI resource that featured no-BS explanations for beginners in plain English as well as deep dives into the technology by experts. While decades out of date, this book set the tone of No Starch books to come with its conversational approach, attention to detail, careful fact checking, and fun aesthetic. Its table of contents included:
An intro to the basics of SCSI
Instructions on how to add SCSI to your PC
An explanation of how the SCSI bus works
Overviews of ASPI programming and CAM programming
Q&A from major SCSI host adapter manufactures Adaptec, DPT, and Future Domain
A directory of 150+ companies that produce SCSI hardware and software
A look at SCSI into the future by John Lohmeyer, chairman of the ANSI SCSI-3 Committee and world's leading SCSI expert
Drawings and diagrams of SCSI hardware and systems
Tips and troubleshooting help
A glossary of terms
A comprehensive index
Neither the original, nor its 2nd edition, released in the summer of 2000, are still in print, but both were well-regarded at the time (the original release was even reviewed by PC magazine).
Cheers to the OG No Starch fans who threw on a flannel and headed to the Computers section of their local Waldenbooks to pick up a copy.