Submitted by

Christy Kirwan

on Fri, 2019-03-08 15:09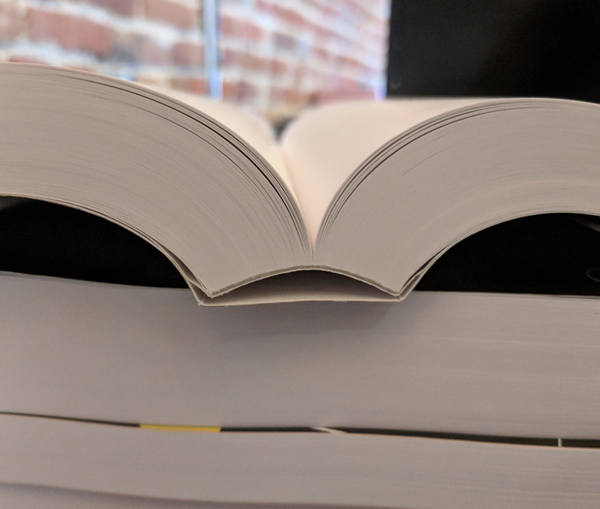 You may have noticed that the spines of your No Starch Press books, even the ones you use most, stay free of creases. That's because we pay extra to have our books bound with premium lay-flat bindings. Most No Starch books (with the exception of hard backs, some older books, and a very few print-on-demand titles) sport this nice little Easter egg.
Lay-flat bindings allow our books to lay open by themselves on a flat surface, making it easy to refer to them while working at a computer. As an added bonus, they keep the spines from developing cracks and creases with frequent use.
Here's a somewhat technical explanation from our printer about how these special spines are manufactured.
---
Once a book has been printed and the printed signatures collected, the collated signatures enter our binder and are milled on the spine to prepare them for glue. There is a two-step glue process using PUR (polyurethane reactive) glue, the absolute strongest and most flexible book adhesive made, and EVA (ethylene-vinyl acetate) glue to adhere the covers. The milled signatures go across the PUR glue pot where glue is applied with two rollers:
A reverse spinner roller then removes the excess glue: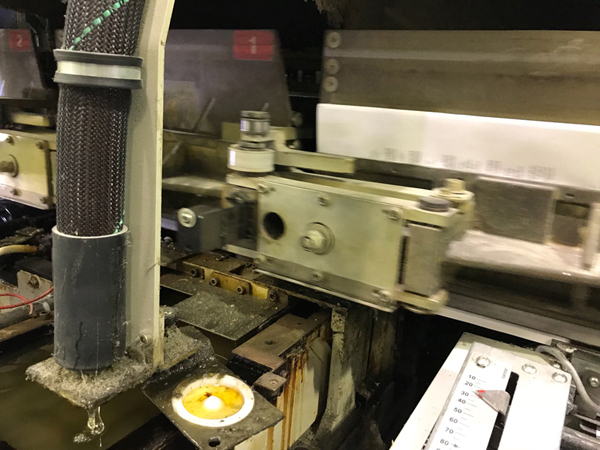 The book then travels between two side glue rollers that apply a bead of EVA glue to the first and last page of the book. EVA glue must be used in this step because is adheres immediately to hold the book together whereas PUR glue must cure for eight hours before it reaches its maximum strength.
The next station is the krash station where the krash paper is applied to the spine of the book to cover the PUR glue film. This creates the gap between the book block and cover that is critical to provide the flexibility and lay-flat properties of this binding style. Finally, a cover is applied which is adhered to the book with the side glue at the front and back corners of the spine.
---
The books are then inspected for quality issues and shipped off to our distributor, bookstores and of course, to you.