The LEGO Build-It Book, Vol. 1
BUILD 10 COOL MODELS!
With just one collection of LEGO® bricks, you can build any of these 10 models—from the simple Go-Kart to the intricate Rescue Truck.
Handy tips and advanced building techniques will inspire you to create your own amazing models for even more fun!
Off-Roader
Go-Kart
Muscle Car
Stroller
Multi-Purpose Truck
Historic Racer
Classic Car
Wheel Loader
Street Rod
Rescue Truck
Look Inside!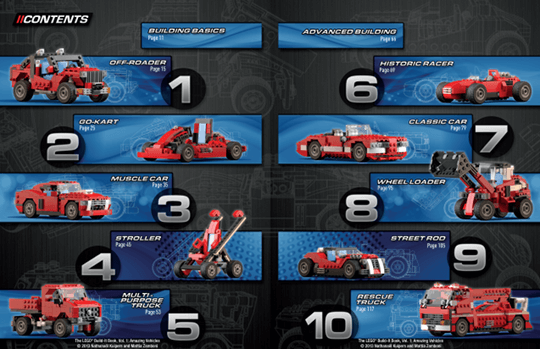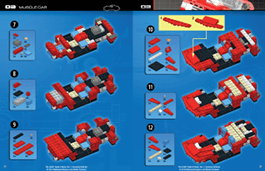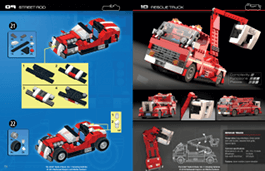 What You Need
Every project in this book uses a common set of pieces—a complete list is included in the book. If you have set #5867, the LEGO CREATOR Super Speedster, you have all the bricks you need.
If you have a collection of other LEGO sets and want to determine which pieces you're missing from set #5867, we recommend using Rebrickable (http://rebrickable.com/). To buy the parts you're missing, you have a few options.
If you're not lucky enough to live near an official LEGO retail store with a "Pick a Brick" wall, you can buy individual pieces online (http://shop.lego.com/en-US/Pick-A-Brick-ByTheme). You can also buy LEGO pieces from BrickLink (http://www.bricklink.com/), a comprehensive, international marketplace for buying new and used bricks.
Don't forget that you can use parts in different colors or with similar shapes, too. That's what's so cool about building with LEGO bricks! You can always redesign and customize everything using your own imagination.
Click here for a detailed parts list.
---
Check out Volume 2!
Reviews
"A great intro to some clever building techniques that older kids will love to try out. The instructions themselves are just as simple to follow as LEGO's."
—Nathan Barry, GeekDad (Read More)
"The instructions and model renders are extremely well done. You'll have pleasure flicking through it and seeing the amazing potential of a pile of LEGO bricks."
—Huw Millington, Brickset (Read More)
"This is one of the most useful LEGO books I have ever come across."
—TheBrickBlogger (Read More)
"Nathanael Kuipers and Mattia Zamboni set a new standard with this book, a standard that other authors just might struggle to live up to. Every aspect of this book is top-notch, from cover to cover."
—BrickNerd (Read More)
"Whether you simply want instructions for 10 great alternative models or need a hands-on guide to improve your creative skills, this book is a valuable addition to your LEGO Library."
—Hispabrick (Read More)
"Once again, No Starch Press has offered LEGO enthusiasts a great book full of extra fun for both kids and adults."
—A LEGO A Day (Read More)
"The guide is seriously high quality with simple, easy-to-follow instructions. A great idea that leans more toward frugality versus purchasing new official kits every few months."
—Nerdy With Children (Read More)
Extra Stuff
Check out The LEGO Build-It Book series video!