245 8th Street
San Francisco, CA 94103
FOR IMMEDIATE RELEASE
CONTACT
Katie Haemmerle, Marketing Associate
415.294.3715
Make Your Own Twine Games
A kid-friendly introduction to computer game design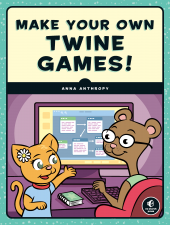 San Francisco, CA (April 25, 2019)—Twine is a free online tool that lets anyone new to programming create their own interactive, story-based adventure games in a web page. Make Your Own Twine Games ($17.95, 104 pp.) is a playful, kid-friendly introduction that shows readers how to design interactive fiction games with Twine while teaching elementary programming concepts along the way.
Game designer Anna Anthropy guides readers through each stage of the game development process using full-color illustrations and step-by-step instructions. Readers will learn how to write scripts and create interactive games that remember and respond to player choices, as well as how to test their game, export it, and publish it online.

Readers will also learn how to:
Write stories that follow multiple paths using hyperlinks

Create variables to track

their

player's actions

Add

conditional logic

like "if" and "else" to decide when

gaming

events should happen

Use hooks to add fancy touches like text effects, pictures, and sound
Packed with fun examples, Make Your Own Twine Games! will take beginning game developers from story-teller to game designer fast!
—End—
Author Bios
Anna Anthropy is a video game creator and game historian. She is the author of Rise of the Videogame Zinesters, a guide to game design that encourages aspiring developers from all backgrounds to create games and contribute their unique voice to the video game industry. Her most recent book, ZZT, explores a shareware game from the early '90s and its lasting impact on developers everywhere.
About No Starch Press
San Francisco–based No Starch Press has published the finest in geek entertainment since 1994—bestsellers like The Game Console, Python Crash Course, Python for Kids, The Linux Command Line, and Hacking: The Art of Exploitation. Our titles have personality and attitude, our authors are passionate about their subjects, and our editorial team puts every book through a rigorous process of developmental editing, tech review, design, and production.