245 8th Street
San Francisco, CA 94103
FOR IMMEDIATE RELEASE
CONTACT:
Katie Haemmerle, Marketing Associate
[email protected], 415.294.3715
Make Your Own Pixel Art
A Complete Beginner's Guide to Creating Pixel-based Digital Art
Ages 10+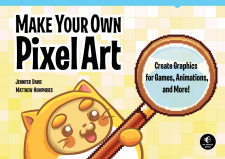 San Francisco, CA (April 23, 2019)—Pixel art is one of the most popular digital art forms used in game design and animations, made up of colored pixels and digital drawing. This new release from No Starch Press gives readers everything they need to make their own.
 
Make Your Own Pixel Art ($19.95, 200 pages) is the only comprehensive introductory guide to getting started with creating pixelized designs using only a keyboard and mouse. This book takes readers step-by-step through the available tools, common pixel art techniques, and the most effective methods of using shapes, colors, and shading. It also teaches beginners how to turn art into animations.

Readers learn how to:
Creat

e

adorable

pixel art usin

g the most popular art software

Draw with pixels, including sculpting, shading,

creating

texture, and

using color

A

nimate pixel art creations

using basic

motion

S

av

e

, shar

e

, sketch, and add emotion to

their

art

Filled with personality and charming illustrations, Make Your Own Pixel Art is sure to become the go-to resource for mastering pixel art.
 
—End—

About the Authors
Jennifer Dawe is a self-taught animator and character designer who has worked as a professional pixel artist for the past 15 years. You can usually find her on Twitter @GMShivers posting doodles and answering questions about drawing and digital art.
Matthew Humphries is Senior Editor at PCMag.com and a professional game designer. Over the past 15 years he has worked on games for Disney, 20th Century Fox, and Games Workshop, among others. You can find him on Twitter @mthwgeek.
About No Starch Press
San Francisco–based No Starch Press has published the finest in geek entertainment since 1994—bestsellers like Python Crash Course, Python for Kids, The Linux Command Line, How Linux Works, and Hacking: The Art of Exploitation. Our titles have personality and attitude, our authors are passionate about their subjects, and our editorial team puts every book through a rigorous process of developmental editing, tech review, design, and production.