245 8th Street
San Francisco, CA 94103
FOR IMMEDIATE RELEASE
CONTACT:
Katie Haemmerle, Marketing Associate
[email protected], 415.294.3739
A Beginner's Guide to 3D Modeling
CAD Design Made Easy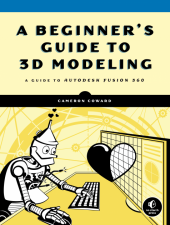 San Francisco, CA (May 14, 2019) — A Beginner's Guide to 3D Modeling ($24.95, 152 pp., on sale May 28, 2019) is the beginner's guide to making precise 3D designs, from household objects and art to mechanical parts and even robots. Learn the principles of parametric modeling using Autodesk Fusion, the most powerful computer aided design (CAD) software, which is free for non-commercial use.
Engineers and mechanical designers use this and similar software to create parts to exact specifications. Written by 3D printing guru Cameron Coward, this practical guide's hands-on tutorials walk readers through every step of its modeling projects. The book also shows readers how to make photorealistic renders of their models and draft technical drawings they can use to get parts professionally manufactured.
• Learn the tools and design principles of the Fusion 360 3D modeling software
• Build complex designs efficiently by breaking them down into parts
• Master advanced modeling techniques to create coils, organic surfaces, and more
"CAD has a steep learning curve that can be daunting to beginners," said the author. "I created these tutorials so even someone with no experience can easily learn the skills to create their own designs and have them manufactured, or even print them out at home."
—END—
About the Author
Cameron Coward is a writer, maker, mechanical designer, and drafter. He is a regular contributing author for Hackster.io and Hackaday.com and the author of Idiot's Guides: 3D Printing.
About No Starch Press
San Francisco–based No Starch Press has published the finest in geek entertainment since 1994—bestsellers like Python Crash Course, Python for Kids, The Linux Command Line, How Linux Works, and Hacking: The Art of Exploitation. Our titles have personality and attitude, our authors are passionate about their subjects, and our editorial team puts every book through a rigorous process of developmental editing, tech review, design, and production.