San Francisco, CA, May 14, 2013—Jeff Boen snapped together his first LEGO pistol in under two hours. The Texas-based web developer designed it solely from his memories of movies and video games, then decided to improve its design by borrowing a friend's 9mm Beretta for reference. Soon he had a functional model complete with a working trigger, hammer, and slide. Confident he'd created the most realistic all-brick handgun to date, he posted pictures of it to the LEGO Users Group Network (LUGNET). A few weeks later, he was shocked to see that his web page—which typically got about 20 visitors a week—was receiving 8,000 hits a day. Boen's brick Beretta had gone viral.
Suddenly his extraordinary LEGO gun was in high demand. Requests for the design poured in from all over the world, and a Finnish rock band put its image on their album cover. Beretta Inc. itself sent Boen an email describing his LEGO 92 Series as "beautiful," and he learned that it was being featured on several of the iconic gun manufacturer's fan sites. After years of innumerable requests for more replicas, Boen went pro, combining his lifelong passion for LEGO and his tremendous admiration for well-made firearms into BrickGun.
The web-based company now produces kits and instructions for building nearly a dozen classic handgun models, all made out of standard LEGO parts. His brand has become known for both the ultra-realism of its replicas as well as their simplicity. "Our models are true to life in that way," Boen says, recalling the first time he saw a friend's Beretta 84FS Cheetah. "He'd never dismantled it, but I was able to do so in seconds. It amazed me how simple the firearm was when broken down into components—I'd heard that Berettas were the most efficient handguns in the world, and at that moment I could see why."
In 2011, the IT-guy-turned-model-gun-designer decided to package his five most popular models into a comprehensive builder's guide for hobbyists. This month, to the delight of Boen's many fans, No Starch Press will release The BrickGun Book (No Starch Press, May 2013, 232 pp., $29.95, ISBN 9781593274900). The model that started the madness, his Beretta 92FS, is included, as are other popular models with working mechanisms, such as the BG22 with loadable magazine and the rubber-band-shooting MAC-11. Boen's signature commitment to detail and accuracy is obvious in the instructional diagrams, and the finished models feature functional triggers, hammers, slides, and safeties.
"Some people just put them on a shelf, but they're actually a blast to play with," Boen says, before noting: "I guess this is the point where I remind everyone that, harmless as they are, BrickGuns are not toys. But, man—they sure are fun."
For more information or to request a review copy of The BrickGun Book, contact Jessica Miller at No Starch Press ([email protected], +1.415.830.3899) or visit www.nostarch.com.
A video by the author: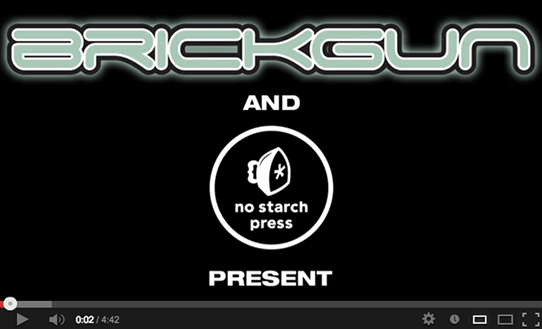 Sample pages from The BrickGun Book:



Additional Resources
Table of Contents
No Starch Press Catalog Page
---
You Might Also Be Interested In:
---
Available in fine bookstores everywhere, from http://www.oreilly.com/nostarch, or directly from No Starch Press (http://www.nostarch.com, [email protected], 1-800-420-7240).
About No Starch Press
Founded in 1994, No Starch Press publishes the finest in geek entertainment—unique books on technology, with a focus on open source, security, hacking, programming, alternative operating systems, LEGO, science, and math. Our titles have personality, our authors are passionate, and our books tackle topics that people care about. No Starch Press titles have been included in the prestigious Communication Arts Design Annual and STEP Inside 100 competition, and have won the Independent Publisher Book Award (the "IPPY") from Independent Publisher magazine. Visit http://www.nostarch.com for a complete catalog.
About O'Reilly
O'Reilly Media spreads the knowledge of innovators through its books, online services, magazines, and conferences. Since 1978, O'Reilly Media has been a chronicler and catalyst of cutting-edge development, homing in on the technology trends that really matter and spurring their adoption by amplifying "faint signals" from the alpha geeks who are creating the future. An active participant in the technology community, the company has a long history of advocacy, meme-making, and evangelism.
# # #
O'Reilly is a registered trademark of O'Reilly Media, Inc. All other trademarks are the property of their respective owners.