April is Mathematics and Statistics Awareness Month, so we're offering a special deal on some of our most acclaimed math and stats books until May 1st!
Indulge your inner numbers-nerd by picking up any or all of the following titles at a 25% discount with code MATH25: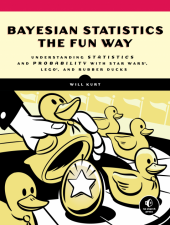 Bayesian Statistics the Fun Way
This marvelously un-boring book lives up to its title, giving you a complete understanding of Bayesian statistics through simple explanations and intriguing examples. Find out the probability of UFOs landing in your garden, how likely Han Solo is to survive a flight through an asteroid belt, how to compare hypotheses or measure your own uncertainty, and so much more as you learn how to get the most out of your data.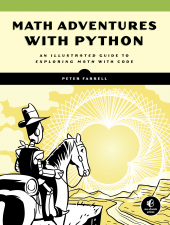 Deemed "an indispensable book for all," by mathematician Gabrielle Birkman, this highly touted bestseller will teach you how to visualize solutions to a range of math problems with the aid of the Python programming language. Learn to code while exploring algebra and trigonometry, then write your own programs to solve equations, automate tedious tasks, and make cool things like an interactive rainbow grid.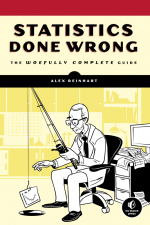 Critics have called it "...a vital contribution," "...amazing, and accessible to amateurs," and have advised that "if you analyze data with any regularity… get this book." We couldn't agree more! This pithy, essential guide to avoiding statistical blunders in modern science will show you how to keep your own research error-free. Examine embarrassing omissions in academic papers, discover the misconceptions and politics that allow these mistakes to happen, and learn how to produce statistically sound research.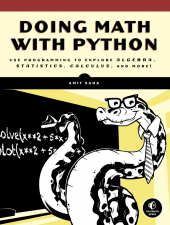 This project-based book provides a clear link between Python programming and upper-level math concepts, demonstrating how Python code can be transformed into a glorious mathematical stage on which to perform and problem-solve! You'll delve into topics like statistics, geometry, probability, and calculus, discovering new ways to explore math while gaining valuable programming skills. You'll learn how to write simple programs for factoring, solving quadratic equations, drawing geometric shapes, fractals and more.
The Manga Guide(s) to: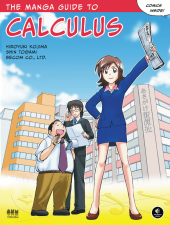 Follow along with Manga character Noriko as she learns that calculus is more than just a class designed to weed out would-be science majors. The Manga Guide to Calculus reveals why calculus is so useful for understanding patterns in physics, economics, and the world around us, with help from real-world examples like probability, supply/demand curves, the economics of pollution, and the density of Shochu (a Japanese liquor).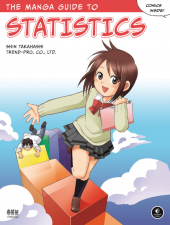 Think you can't have fun learning statistics? Think again. The Manga Guide to Statistics is an entertaining tutorial in everything you need to know about this essential discipline. Charming and easy-to-read, it uses real-world examples like teen magazine quizzes, bowling games, and ramen noodle prices to teach you serious educational content.
Use promo code MATH25 at checkout!